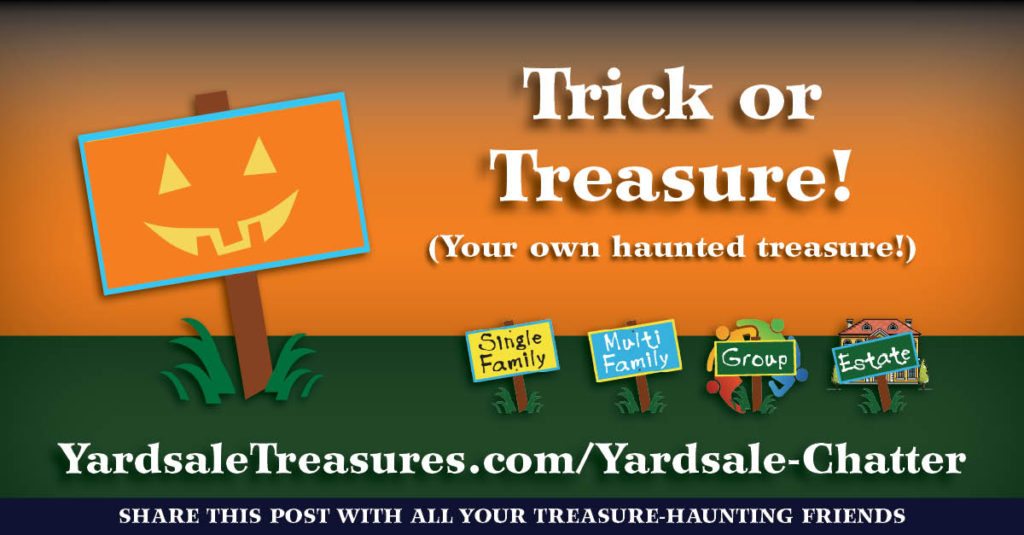 Candy Corn and costumes, trick or treat bags overflowing with full-sized Snicker bars, jack o'lanterns and porches decorated with spider webs and ghosts, haunted houses and hay rides, pumpkin patches and crackling leaves, pumpkin flavored coffees and warm sweaters.  Fall and Halloween will soon be here! Who's excited? I am, I am!
When you think fall, you don't necessarily think yard sales.  But, let me tell you why you should.
Fall Fun!
If you're hosting a yard sale and you have seasonal decor or apparel that you no longer use, be sure and advertise what you're selling. Lots of people might not realize they need a nine foot tall inflatable witch until you show them.
And if you're shopping yard sales, keep an eye out for seasonal decorations.  Even if it's July, you know pumpkin season is around the corner. So, snatch up those orange table linens!
Keep an eye out for containers that could double as trick or treat caldrons.  Lots of clothes make really good Halloween costumes. And you never know what you'll find that'll be the perfect accessory.  A chainsaw that no longer works? Spooky!  Hats, wigs, uniforms, all make great additions to your Halloween closet!  Old plaid shirts, think scarecrow.  Old sporting equipment and uniforms make great costumes.  Just because you don't play hockey doesn't mean that you can't go as a hockey player for Halloween.
The rustic look and fall go hand in hand.  So, keep an eye out for ways to get your house into fall fashion.  Old farm tools on the porch with a bail of hay and some pumpkins.  An old wagon wheel or tractor seat in the front yard could be fun. Galvanized buckets aren't just for bobbing for apples, they look super with a pot full of mums tucked inside.
Yard sales might be the greatest way ever to give your home a fall facelift! So, get out there and find some treasures this weekend!
Save