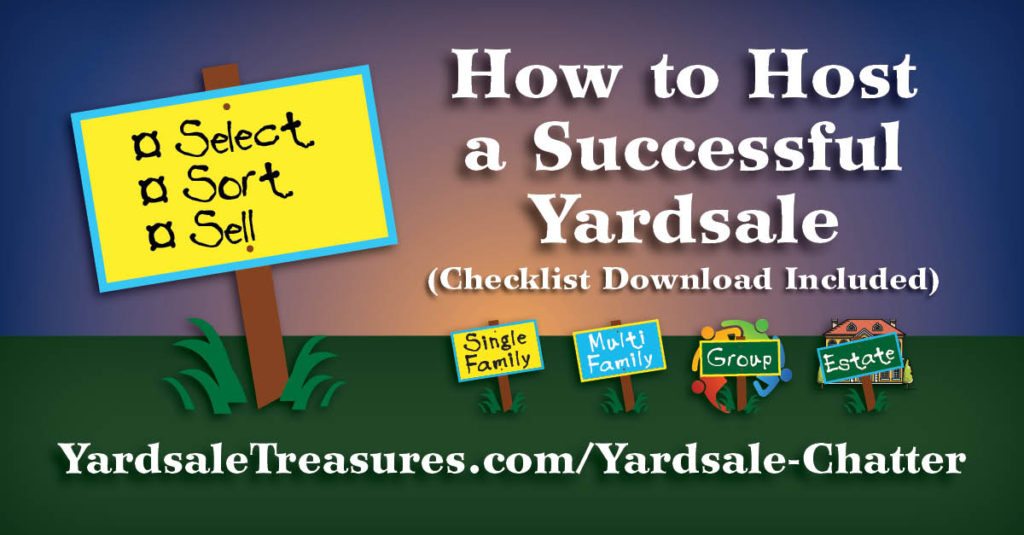 Download your
Yardsale Checklist
now!
So you decided to take the plunge and now you want to have a yard sale or garage sale. Good for you! The only problem is you don't know how to have a yard sale.  Here are a few ideas to help you have a successful yard sale, both for you, and for your yard sale customers:
Get your yard sale items ready.
When was the last time you used it? You may have every intention of using it, but how long do you really want to keep it just on the off-chance? If you or someone in your family hasn't worn or used something in a year (after all the seasons pass), you probably don't need it, someone else can benefit from it and you can benefit from the extra cash in your pocket. As you gather your items to sell, separate them into different piles, for example, children's clothes (boys and girls), women's clothes, men's clothes, household items, yard tools, shop tools, jewelry, pet supplies, etc. This makes it much easier to arrange your items for sale.  The better organized your yard sale is the better things sell.
Be your own first customer.
Once you have pulled out and sorted through everything you want to sell, look through it all for anything that you might make more money from at a thrift store or consignment store. Stores have more people coming through and can take advantage of additional time to sell your items to the person who is looking for them. As a result, you can possibly make more money, and some thrift stores and consignment stores will buy your items outright. Call ahead to see what kinds of things they are looking for and to schedule an appointment if necessary.
Organize the clothes that you want to sell at your garage sale.
Hanging clothes and/or folding them in an organized way, similar to the practice of a retail store, will help your clothes move from your yard sale into the customer's hands! Don't throw clothes in a box and expect customers to rummage through it.  Most yard sale customers will visit several yard sales in one day. They like to look through items quickly, find what they need and head on to the next yard sale. Your job is to make sure the yard sale customers can quickly see what you have to sell. If customers can't quickly see items at a glance, chances are they might miss something that they would have wanted!
How to make your yard sale furniture look appealing.
Arrange your furniture neatly. this is what stores call "merchandising" and there is a very good reason they take the time to do it. If items are part of a set, place them next to each other.  If they can be sold separately, make sure that is noted on the price tag. If you have items that can make a set, for example, if you have a couch, coffee table and lamp that go well together, set them up that way and set a group price as well as individual prices. If you have books you are selling, place a few on the coffee table. It helps your customer visualize the items that can go together and they may buy more than one piece of furniture, if they can imagine the pieces in their own house. If they can be sold separately, make sure this is made obvious with good signs on the furniture and/or noted on the price tags. Make sure prices are put on all pieces of furniture.
How to make your miscellaneous yard sale items look nice.
Arrange the rest of your garage sale items neatly on tables, if you have them. If you don't have tables for items, you can use sheets or blankets on the grass. Just make sure all the items are arranged neatly and easily viewed as customers walk around the sheets. If items are on a table and that table is not for sale, make sure you make that clear or customers may want to buy that table!
How to price your garage sale items.
Your goal for your yard sale or garage sale is to sell your things, right? Price them to sell! 25 cents, 50 cents and 1 dollar items sell very well. You actually will sell more items by pricing them reasonably, rather than putting high prices on items. People want bargains at yard sales! If your items are worth more, or you want more money for them, plan to sell them at a consignment shop. Furniture and bigger ticket items can be priced higher, although items priced higher than $100.00 are usually better sold as single items at a consignment store where they can be shown to more customers over a longer period of time. Remember, you have less than a day to sell all your items, and your customers will not come back , so get what you can, but be prepared to let things go for lees than what you might want.
Using price stickers for your yard sale.
Yard sale price stickers are easy to find in office supply stores and Wal-Marts, and do not cost a lot. They are much easier to use than making your own. It is best to put prices on all your items or group them with a sign denoting the price. Stay away from having posters with prices and items listed on them, it can be inconvenient for the customers to have to refer to a poster while they are looking and picking up items. When items are not priced at all, you may lose some possible sales, as some people feel uncomfortable asking for a price.
Sell the item the first time it is picked up!
The reason you are having a yard sale is to get rid of your stuff and make some money. If a customer picks an item up and offers a lower price, make a counter offer if you want to, but sell it! It's a win win! You get rid of the item, get some cash, and you have a happy customer!
How to make good yard sale signs.
When making your signs, remember to use big markers that can make broad strokes and use a dark color.  Black is always a good color.  You want YARD SALE, or GARAGE SALE nice and big and it should be your first line. Next put date and time, ie. Saturday, May 15th, 7am-noon.  The last line should be the address. 123 Main Street.  and draw an arrow for the direction they should go when they see the sign.  Multiple signs are great to use to lead the customer to your yard sale.  Make sure all signs have bold big lettering and easy to see while driving up to them or by them.  It's a good idea to place the sign and then get in your car and drive past the sign.  You will know right away if it is a readable sign or not!
Promoting your yard sale.
Now it's time to spread the word so your yard sale or garage sale will be a huge success! Promote your yard sale on YardsaleTreasures.com  Also don't forget to promote on social media like Facebook, Twitter, Instagram or any other social media accounts where you interact with your friends. Put fliers on community boards near your house. The more you announce your yard sale the more visitors you are likely to have!
Use a yard sale checklist to make sure you have everything covered.
List all of the things you need to do to get ready.  A Yardsale Checklist always makes everything go much more smoothly and will make your yard sale a better experience for you and your garage sale customers.
Greeting your customers.
Be friendly. Greet customers as they arrive, but don't hover. Your openness will make your customers feel more like they can ask you any questions that may lead to a sale. During your yard sale, keep it looking fresh and not picked over. Tidy up between customers to make new customers feel like they aren't too late to your sale. You will have friends, who will stop buy, but don't get so consumed with talking about the week that you forget to greet and interact with your customers. If something has never been used, it's nice to point that out. Most yard sale customers enjoy the hunt and prefer not being sold to. Just let them browse and enjoy their time looking for treasures!
Getting rid of what you don't need and helping others at the same time.
It's great to get rid of things you don't need, gain more space and help others, who may be financially strapped, get what they need. Having a yard sale or garage sale is also better for the environment by refurbishing your items for someone else instead of letting them wind up in landfills. We hope your yard sale is a great success! You may decide to have a yard sale every year just to de-clutter! Have fun!
Save
Save