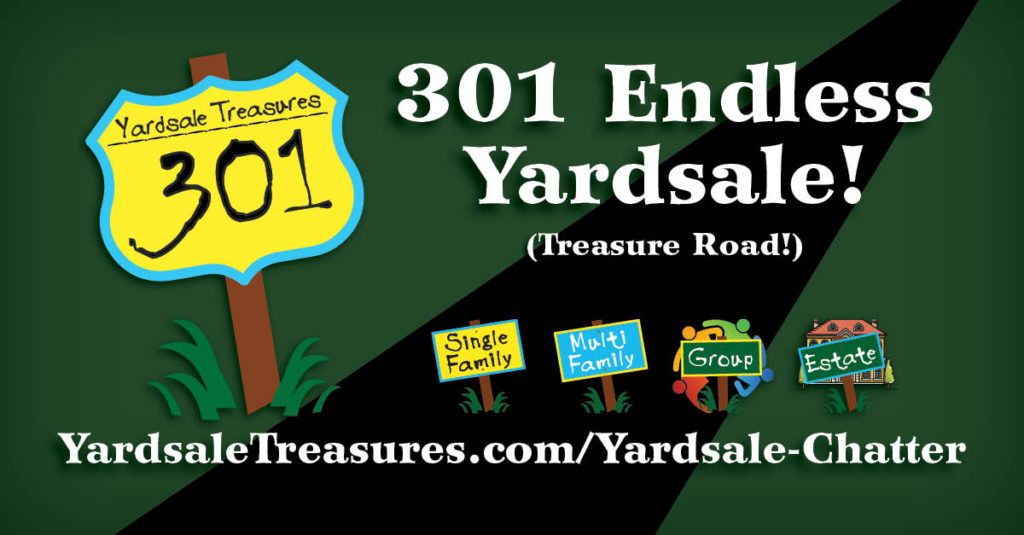 You, my friend, look like someone who enjoys a good yard sale.
How do I know, you may wonder?   Well, you're visiting a site called Yardsale Treasures.  That was my first clue.   And since we've established your love of yard sales, boy, do I have a doozy for you!
In North Carolina, on rural highway 301, there's going to be a yard sale that's over 100 miles long!  Yep, that's miles of treasures there for the picking.
On the stretch of highway between Halifax and Dunn, North Carolina, you'll find all sorts of vendors, yard sale enthusiasts, single family yard sales, multi family yard sales, fundraising sales, churches and organizations hosting sales, and businesses throwing their hat in the yard sale ring as well. It's going to be great!  Every year around this time, folks band together to create this free event This year, it's the fourth annual 301 Endless Yard Sale. It'll take place on June 17 and 18th, 2016 from 7am until 5pm.  Plenty of time to cover some major bargain hunting territory!
If you're looking for a specific treasure this weekend, I bet this is the place you'll find it!  There are hotels and restaurants along the route. And if you plan to make a weekend of it, you probably should get reservations now. Because, I guarantee you won't be the only one that needs a place to put their head after a long, hot day of bargain hunting in the south!
One hundred miles of yard sales! It's the stuff that pickers dream about! What better way to spend a summer weekend? So, get out there and fill your trunks!
We, at Yardsale Treasures, can't wait to see what you find!
Check them out on Facebook. And while you're in the neighborhood, take a second to like us on Facebook and sign up for our newsletter as well! We'll keep you in the know when it comes to all things yard sale!
If you're a vendor or are hosting a sale, consider making it a little easier for shoppers to find you. List your yard sale, add photos and tags here!
Save
Save